Is the FHA Home Affordable Modification Program right for me?
Program goal
The FHA Home Affordable Modification Program is part of the federal government's Making Home Affordable program. The goal of this program is to help homeowners with an FHA-insured mortgage lower their monthly mortgage payments to a sustainable level.
Eligibility
You may be eligibleen_fha_eligibility to modify your FHA home loan under the FHA Home Affordable Modification Program if: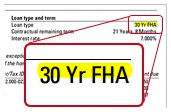 One quick way to check and see if your mortgage may be FHA-insured is to look at page 2 of your monthly loan statement. On the right side of the document under "Loan Type and Term", you'll see the length of the term and the type of loan that our system shows you may have.
If you're having difficulty finding the information, call us.
If you don't have an FHA loan, you may be eligible for a modification under the Home Affordable Modification Program.
If you've had your FHA-insured mortgage for less than 12 months, please call us right away. Help may still be available.
You're the owner of the home and you live in it as your primary residence
Have made at least four full payments during the life of your loan
You're having trouble paying your mortgage due to an increase in your mortgage payment, a reduction in your income or other hardship that has increased your expenses, such as medical bills
The total amount you pay each month (including mortgage principal, interest, taxes, flood and hazard insurance, and homeowners association dues, if applicable) is generally more than 31% of your current gross (before taxes and deductions) income
There may be other modification options to assist you. Call us to discuss your options.
If we can't find a home retention option that works with your budget, you may need to consider options that involve leaving your house. If the current market value of your house is less than the amount remaining on your loan, you may be able to sell your property in a short sale. The Federal Housing Administration (FHA) has a short sale option that provides a streamlined approval process and financial assistance to help you relocate. By working with us and completing a successful short sale, you may rebuild your credit sooner than if your home gets foreclosed.
There are no fees and no minimum credit score requirements with this program, however you will be responsible for certain costs, expenses and fees associated with the servicing of your loan such as foreclosure attorney fees, etc. These were incurred by you before you entered into the FHA Home Affordable Modification Program. When your FHA Home Affordable Modification becomes final, all prior late charges will be waived.
Footnote 1 These eligibility requirements are informational and are not intended as a commitment to modify your home loan nor is this an exhaustive list of the parameters of the Program.
Footnote 2 This calculation is for informational purposes only, is based upon unverified information you provided at our website and should not be construed to mean that you qualify or do not qualify for a home loan modification. We are required to consider other factors in assessing whether you qualify for a home loan modification.
Now that I am in the process, what is next?