If you are experiencing financial hardship, please register to attend a Bank of America customer outreach event in your area. There, you will have the opportunity to meet in person with one of our specialists to discuss your home loan and any assistance solutions—including loan modification options—that may be available to you.
Find an event and register
At this time there are no Bank of America-hosted events, but you can use the search features to find other events that are non-profit or government-hosted, where you can schedule an appointment to meet in person.
Select the event you are interested in to see more details.
, ,
To participate, you must register in advance.
We strongly recommend you do so now since space is limited. Registration opens soon.
We are also participating in other events around the country where you can speak with us about your situation.
Prepare for the event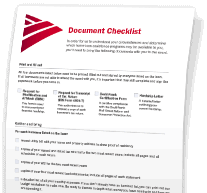 Please bring:
Identification and Confirmation
state-issued identification, such as a driver's license
print-out of your registration confirmation
Specific Documents
To help us determine which home loan assistance programs may be available to you, you must bring in certain documents—even if you gave them to us already. Since everyone's situation is different, the documents required will vary. We will help you generate a customized checklist of required documents.
We can help you understand what to expect at the event. Please keep in mind that you may be there for three hours or more, and depending on your situation, may be asked to schedule a follow-up appointment.
Customer Information Workshop
Depending on which event you attend, you may be required to take part in a 30-minute workshop where you will learn valuable information about the loan modification process and other options that may be available to you. Then, an event staff member will call your assigned number and escort you to meet with your specialist.

Meet with a Non-Profit Housing Counselor
In some cases, you will have the opportunity to speak with a non-profit housing counselor. The counselor will help you develop a monthly budget that can lead to successful financial planning.

Meet with a Specialist
A specialist will review your information and speak with you about your current situation. The specialist will be prepared to discuss home loan assistance and refinance programs as well as other options. At the end of your meeting, you may be asked to schedule a follow-up appointment, if necessary.

Exit Survey
The final step of the event is to take a brief exit survey. We value your feedback and this will help us improve the way we provide assistance.