If you're having trouble making your home loan payments, schedule an appointment to come in and see us. We'll sit down with you, discuss your situation, and begin looking for a solution that's right for you.
Prepare for your appointment
What to expect at the customer assistance center
We can help you understand what to expect when you arrive for your appointment. Appointments typically last about an hour.
Step 1: Review your situation
You'll start by reviewing your financial hardship in detail, including your current monthly income and expenses. To prepare, please print a checklist of documents you'll be required to bring. Specialists need these documents to determine your eligibility for loan assistance programs.

Step 2: Learn about your options
Your specialist will review the home loan assistance solutions that may be available to you. They can also tell you about hardship programs for other Bank of America products, such as credit cards, auto loans, small business loans and more.

Step 3: Apply
Once you've determined the program that is best for your situation, your specialist will work with you to submit an application.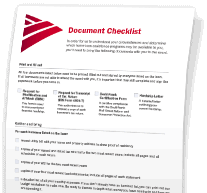 What to bring
In order for us to understand your circumstances and determine which home loan assistance programs may be available to you, you'll need to bring certain documents with you to your appointment – even if you have provided them to us previously. Since everyone's situation is different, the documents required will vary from person to person. We'll help you generate a customized checklist of what to bring.